C is for Can we go see?
This is Lydia, who's title is museums officer, collections. Lydia's role centres on the conservation and cleaning of objects ensuring they are preserved in their current condition in Dumfries Museum and in five others across the east of the region.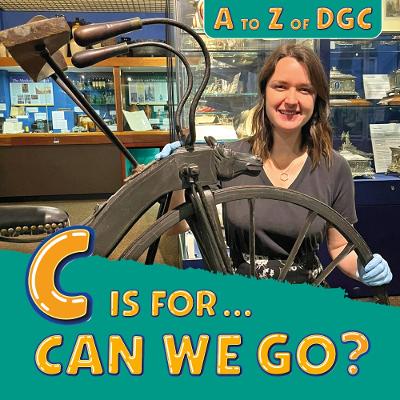 Lydia's job is a specialised one having studied for three years in Conservation and Restoration to have the required attributes for this job. The skills needed to care for everything from thousand-year-old log boats to Burns Manuscripts, is a science, and a very intricate one, too.
Did you know that an artefact, the stand it sits on, the lighting used to illuminate it, the temperature of the environment around it, even the paint used on the walls near the artefacts affects its condition? The science and knowledge behind preserving history is incredible, and important.
Lydia's role has seen her work with an array of artefacts from Burns Manuscripts, which can be seen in the Burns Museum and are over 100 years old, right through to a My Little Pony toy that is still being sold in shops today as part of previous exhibition for toys and games throughout the ages.
Lydia can cover Burns on a Monday, My Little Pony on a Tuesday, a thousand-year-old log boat on a Wednesday, a hearse on Thursday and by Friday, well, we can only guess!
Lydia covers these collections in Dumfries Museum, Robert Burns Centre, Robert Burns House, Sanquhar Tollbooth, Annan Museum and Old Bridge House - she really is spoiled for choice, and extremely busy.
Oh, and did we mention there is 150,000 artefacts across the region? Lydia and the rest of the team are very busy. Lydia says passionately,
"I feel privileged and lucky to work with a range of historically significant objects with many being particularly important to this region such as the Burns Manuscripts. My job allows me to preserve history, uncover intricacies not seen for hundreds of years, and showcase for all to see and enjoy for a long time to come."
Lydia, with you, current and future generations can experience our history first-hand.
Thank you for protecting our history for the future.
For more information regarding what fantastic exhibitions are on show in our museums please visit -
Page last updated: 28/06/2023