I is for I do
This is Wilson Weir who is a Civil celebrant.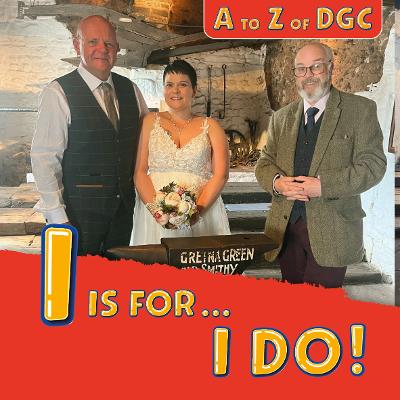 Being a civil celebrant allows Wilson to perform civil marriages and civil partnerships in any non-religious venue. From a private garden to the epicentre of love that is the famous Gretna Green, Wilson is a part of many couples' special day.
Civil celebrants are also able to customize the ceremony, and with a whopping 17% of Scotland's weddings taking place at Gretna Registration Office alone, it's good to know Wilson and his colleagues are on hand.
FACT 1 - 5,191 couples said "I do" in D&G last year...love is definitely "in the air".
FACT 2 - Wilson has performed 10 weddings in one day before on Valentine's Day.
Best part of the job? "I am a part of the biggest and happiest day in a couple's life. It's a pleasure being at work every day, meeting people from all over the world, watching nerves turn to excitement, witnessing different cultural rituals, being a part of the ceremony, hearing their unique love stories and sharing the joy that this momentous day brings. It's more a vocation that a job, and one I utterly adore."
Wilson tells us: "My job is to facilitate happiness. I've married couples that have been together for 50 years, same-sex couples who planned the most spectacular rainbow-coloured flare display for the photographer, those who have travelled from every corner of the world. There was even one gentleman (who I knew from school funnily enough) who was in the middle of cycling from Land's End to John o' Groats and 'popped in' mid-journey to tie the knot with his long-term partner. Being able to facilitate ceremonies in such uniquely personal ways is of great importance to me and my colleagues."
Wilson, your job brings happiness to people and makes the "I do" official. It's the way you do this with such enthusiasm, diligence and compassion that makes it so special. No wonder so many people come here to D&G to get married!
Need a civil celebrant or more information on weddings in D&G? Getting married in Dumfries and Galloway - Dumfries and Galloway Council (dumgal.gov.uk)
Page last updated: 22/09/2023