G is for Get on yer bike
This is Peri Wallach. Peri is the Bikeability Coordinator for the region. Peri organises the Bikeability programme to our 99 primary schools across the region with her dedicated team of trained tutors.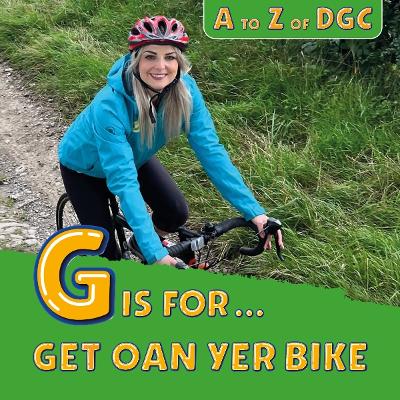 Bikeability (formerly known as cycling proficiency) aims to develop essential cycling skills in primary pupils that increase their confidence and abilities to cycle safely on the road.
Peri - a lover of all things cycling and running herself - promotes this important programme with knowledge, professionalism and passion in equal measure, attracting like-minded people along the way. Starting only a year ago, Peri has grown a pool of volunteer Bikeability tutors from zero to 20.
FACT- 60% of schools took part in the programme last year. That's 1,150 young people completing level 1 and 1,250 completing level 2 across 61 schools in one year. That's a lot of safe cyclists.
Whether it's a young person learning to cycle for the first time or learning how to carry out a bike safety check, Peri is happy knowing that everyone is learning how to look after themselves while taking part in a fun, social and healthy activity - not to mention learning an alternative way to travel.
Best part of the job? "I love every part of my job, in particular working with the most enthusiastic volunteers, their collective love of cycling and the programme is infectious. We have so much fun; they are world-class volunteers who create so many opportunities for young people and are so supportive and enthusiastic about what we aim to achieve. It's a joy to work with them and see the impact they make every day."
Peri, you, and your wonderful team have boundless energy and enthusiasm to support young people to cycle safely within this beautiful region. Because of you the future looks more active, healthier, safer, and fun! Thankyou.
Page last updated: 23/08/2023