Kerbside Waste and Recycling Service
Dumfries and Galloway Council provide a comprehensive kerbside waste and recycling service across the region.
Recycling Containers
You can easily recycle a range of items from your home. The majority of households have two wheelie bins for recycling:
Blue-lidded bin for paper, card and cardboard.
Red-lidded bin for plastics, metals and cartons.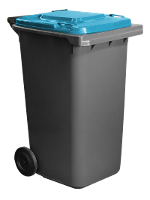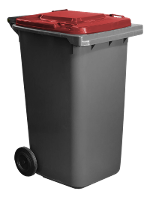 Some properties will have shared bins or reusable recycling sacks if there is no space for wheelie bins.
You can find out how to use the service, including what you can and cannot recycle, by downloading a copy of this leaflet:
Non-recyclable Waste
Wheelie bins or sacks for non-recyclable waste are collected fortnightly. Making full use of your recycling bins or recycling sacks will mean there is sufficient space in your non-recyclable waste containers for items that cannot be recycled.
Bin Collection Dates
The kerbside service operates over a four-week cycle, meaning you will have either recyclable or non-recyclable waste collected once a week on the same day each week. A typical collection cycle may look like this:
| | | | |
| --- | --- | --- | --- |
| Week 1 | Week 2 | Week 3 | Week 4 |
| Blue-lidded recycling bin | Non-recyclable waste | Red-lidded recycling bin | Non-recyclable waste |
You can find out when your bins will be collected below:
Check Your Waste Collection Schedule >>
Glass Bottles and Jars
You can recycle glass bottles and jars at Recycling Points and Household Waste Recycling Centres - there is no need to separate colours, just rinse, remove tops and pop them in the glass bank. There are over 90 Recycling Points across the region. To avoid disturbing residents who live near glass recycling points you should only use them between the hours of 9am to 9pm.
You can find your nearest Recycling Point below:
Recycling Reminder Cards
You can download our Recycling Reminder cards to print at home to help you remember what you can recycle in each bin.
We have also produced an easy-read version that uses images to explain what can be recycled in each bin:
Kerbside Recycling Video
We have produced a video that tells you more about the kerbside service, including what you can and cannot recycle.
Food Waste
You can find out more about the food waste collection service, including what you can and cannot recycle here:
Further information
Page last updated: 31/05/2022