National Scenic Areas (NSAs)
National Scenic Areas are areas which are nationally important for their outstanding scenery. Dumfries and Galloway has three NSAs, the Nith Estuary, the East Stewartry Coast and the Fleet Valley.
NSAs contribute hugely to the quality of life in the region and require special care and attention with extended planning controls.
A management strategy has been prepared for each of our NSAs to ensure that they are protected from inappropriate development.
NSAs are an important resource for us, attracting tourists and providing an attractive setting for business.
Scottish Natural Heritage has endorsed the strategies and they now act as supplementary guidance to our Local Development Plan .
Visiting our NSAs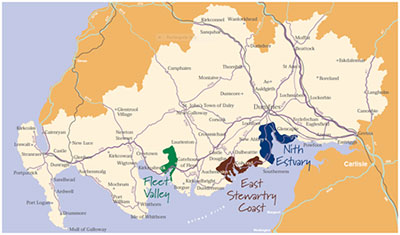 Fleet Valley
The Fleet Valley rises gently from sandy beaches on the coast, through a narrow farmed valley to open hills. Between the bay and the valley lies the historic town of Gatehouse of Fleet, surrounded by trees and ancient woodland.
East Stewartry Coast
On the East Stewartry Coast sea cliffs, rocky shore and sheltered sandy bays are surrounded and enclosed by hills. The River Urr meanders through the rich pattern of farmland, and picturesque villages are situated along the coast.
Nith Estuary
Criffel dominates the Nith Estuary as it rises steeply from the extensive tidal flats and merse. Evidence of the past is imprinted on the landscape with Caerlaverock Castle and Sweetheart Abbey providing distinct landmarks.
Download any of our information leaflets to get a flavour of an NSA before you visit you:
Getting involved
There are opportunities for volunteering and we produce a bi-monthly newsletter about events, days out and training.
Art and community projects
Viewpoint Voices
The Viewpoint Voices project in 2012 asked people to write poetry inspired by the scenery of the NSAs. These poems can be heard on our YouTube channel .
Lie of the Land
'Lie of the Land' involved a group of young people, accompanied by a poet and film maker, experiencing the special qualities of landscape in and around the NSAs. Their responses were captured and shared through written work and a short film .
Page last updated: 02/09/2019