Sunday - Housing and Public Services
If you are struggling and need support to access accommodation or to keep a roof over your head we have teams and organisations to support you.
Our Council does not provide any council houses, instead housing associations are the main providers of affordable housing in the Region.
---
Housing and Homeless
Are you in danger of losing your home, facing eviction or need help and advice on how to sustain your tenancy? Dumfries and Galloway Council have wide ranging support which can be accessed via various channels to give you the lifeline that you need and the support which will help you at this challenging time.
Our Council does not provide any council houses, instead housing associations are the main providers of affordable housing in the Region.
Housing and Homeless Support Factsheet >> [PDF - 411KB]
Housing Options and Homeless Services Booklet >> [PDF - 238KB]
Housing Support Services >> [PDF - 124KB]
---
Transport
Transport Scotland aims to make travel as accessible and affordable as possible. To do this there are a number of free or discounted travel schemes available across the Region?
---
Free Travel for 5 - 22 year olds
All children and young people aged 5-22 are entitled to free bus travel in Scotland.
You can apply for free travel online from today at www.getyyournec.scot (This cannot be done through your school)
Even if you already have a National Entitlement Card or Young Scot National Entitlement Card, you must apply for a new or replacement card to travel by bus for free.
The free travel is not added automatically to current NEC/Young Scot Cards, it has to be applied for by either a parent/guardian or the young person themselves and a new card issued.
Click here for more information >>
---
Bus Passes
The National Entitlement Card (NEC) gives access to free travel on buses across Scotland if you are 60 or over and live in Dumfries and Galloway. Services between this area and Carlisle are also free.
Click here for more information >>
---
Taxicards
Apply for a Taxicard if you have difficulty using public transport because of serious mobility impairment. The card lets you use taxis at a reduced cost.
You'll receive £100 credit towards the cost of taxis each financial year. This can be used at any time to pay for journeys starting or finishing in Dumfries and Galloway.
Click here for more information >>
---
Community Transport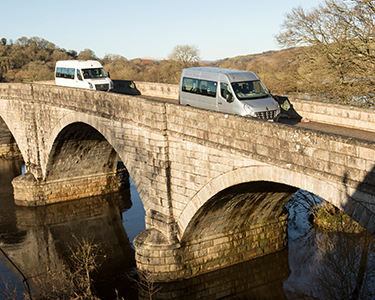 A variety of organisations make transport available to people who find public transport difficult to use. If you don't live on a public transport route or have limited mobility they can help.
In a place like Dumfries and Galloway, it is often impossible for residents to find a way to get to a destination using traditional travel services - that's where local community groups can step in.
Across the region, a number own and run Community Transport schemes. The not-for-profit social enterprises are set up by people living in areas with very limited public transport and are greatly valued by local communities.
They are designed particularly to address the needs of those who experience barriers in using public transport by reason of disablement, poverty, social or economic circumstances - those who have no other form or access to transport.
Community Transport Operators are social enterprises and provide safe, accessible, and affordable transport solutions for local communities to allow them to live independently; participate in their communities; and access education, employment, health, and other essential services.
The services are developed and delivered by the community for the community, are community-owned and managed by voluntary committees.
It is about providing flexible and accessible solutions to transport needs and typical services in Dumfries and Galloway include Minibus Services, Community Bus, Demand Responsive Transport Services, Community Car Schemes, Vehicle Brokerage and Management and Training.
The local network includes: Annandale Community Transport Service; Cairn Valley Community Transport; Co-Wheels Car Club; Dalbeattie Community Minibus; Galloway Community Transport; Kirkconnel Parish Heritage Community Minibus; Royal Voluntary Service; The Order of St John; Thornhill and District Community Transport; Upper Nithsdale Minibus Project; Upper Nithsdale Wheels Appeal Wigtownshire Community Transport; and East Criffel Community Transport.
In Dumfries and Galloway, the drivers are made up of volunteers and paid members of staff.
The impacts on the health and wellbeing of individuals as a result of being able to access transport are felt thoroughly by some of the most disadvantaged in the region.
Community Transport helps to tackle loneliness and isolation and for older people to remain active and connected to their neighbourhoods.
It has the impact to combat loneliness and isolation by providing access to social opportunities, opportunities to leave the house and an opportunity to socialise with other passengers and the driver.
Other impacts include transport services for people with disabilities or who find it impossible to use conventional passenger transport, and for individuals and groups who may be characterised as socially deprived - those with low income, without cars - which may exclude them from developing their skills or the job market.
To discover more: https://communitytransportdg.co.uk/
We aim to provide information in a range of formats so that it's accessible for as many people as possible.
---
Recite Me - website customisation
You can access a range of accessibility features to customise this website via the 'Speak / Translate' link in the site menu at the top of each page. The Recite Me toolbar provides a Screen Reader, reading support tools, changes to website styling and real time translation.
Click 'Speak / Translate' at the top right of the page to get started
Page last updated: 09/10/2022